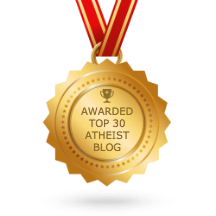 According to the folks at Feedspot, a new web-venture media news blog,
the Advocatus Atheist ranks in the top 30 of blogs based on, according to Feedspot, these criteria:



Google reputation and Google search ranking




Influence and popularity on Facebook, twitter and other social media sites




Quality and consistency of posts.




Feedspot's editorial team and expert review



I'm humbled and flattered to be included in these other fine blogs. And I'll put the badge on my site proudly. If anything, the analystics seem sound. And if we're going by raw numbers, well, that's good news for this blog which I've maintained for over a decade. Although I don't post nearly as much as I used to, I still get around to it once in a while. Once a month on average according to Feedspot, Alexa, and Google Analytics.
Here's to many more great posts!